Italian Journal of Agronomy

Chief Editors
Carlo GIUPPONI
Michele PERNIOLA



Home Page
Editorial Advisory Board
Publication charges
Instructions for Authors
Subscriptions and back issues
IJA Archive

Mail to:
ija-editor@agronomyjournal.it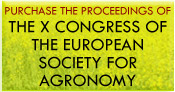 Italian Journal of Agronomy
Journal of Agronomy
An International Journal of Agroecosystem Management
And
Official Journal of the Italian Society for Agronomy


ISSN: 1125-4718
---



INSTRUCTIONS FOR AUTHORS



General
Manuscripts for submission must be written in English (for the ordinary issues of the Italian Journal of Agronomy) or in Italian (for the Rivista di Agronomia supplement series). Authors whose native language is not English are strongly advised to have their manuscript checked by a language editing service, or by an English speaking colleague prior to submission.
Manuscripts and tables should be submitted as Microsoft Word files and figures as Microsoft Excel charts, or common graphical formats (uncompressed TIFF as a preferred format).
The complete text (abstracts, text, references, tables) should be saved as a single file. Do not use the wordprocessor's options to justify text or to hyphenate words.
The manuscripts should be double spaced typewritten with numbered lines and wide margins.
In case of multiple authors, one should be identified as Corresponding author, and provide a fax number and e-mail address when submitting the manuscript.

Style
The manuscript should be arranged as follows:

Title page: including the full title, the name(s) of the author(s), their affiliation and the name of the corresponding author to whom proofs and requests for off-prints should be sent.
Abstract: should not exceed 400 words.
Keywords: three to six keywords characterizing the content of the article in alphabetical order.
Introduction.
Materials and methods: this section should provide sufficient information and references on the techniques adopted to permit their replication.
Results: the content of this section should permit full comprehension of the data reported in figures and tables.
Discussion: this should underline the significance of the results and place them in the context of previous research. The Results and Discussion could be merged in a single section.
Acknowledgements.
References: references in the text should be in full for one or two authors (e.g.: Boniek, 1989; Benites and Ofori, 1993); in the case of multiple authors they should be cited as Verdi et al., 1992. The reference list should be arranged in alphabetical order following the examples given:
Cerrito T., Black A.M. 1990. Comparison of models for describing wheat yield response to potassium fertilizer. Agron. J., 78:434-437.
Benites J.R., Ofori C.S. 1993. Crop production through conservation-effective tillage in the tropics. In: Lal R. (ed.): Soil tillage for agricultural sustainability. Proceedings 12th Conference of ISTRO, 8-12 July, Ibadan, Nigeria, 9-33.
Boniek Z.M. 1989. Water management effects on growth of sorghum. In: Smith A.F., Wesson G.A. (eds.): Irrigation of Field Crops, 22-34. Miller Publ., New York.
Russell E.W. 1973. Soil conditions and plant growth. 10th edition, Longmans, London.
Figures: each figure should be labelled in pencil on the back upper right edge; avoid unnecessary 3D figures. Since figures will be printed on either 1 (8 cm) or 2 columns (17 cm), please adopt the proper font size and line width, as well as appropriate dimensions.
Photographs: glossy, black and white prints of good contrast are required. Dimensions should be appropriate for reduction, as described for figures.
Tables: each table should be typed on a separate page.
Units: authors are recommended to use the International System of Units (SI).
Scientific names: common names of organisms should always be accompanied, when first cited, by their complete scientific name in italics (genus, species, attribution and, if appropriate, cultivar).
Formulae: mathematical formulae must be carefully typed, possibly using the equation editor of Microsoft Word when a paper contains several equations they should be identified with a number in parentheses (e.g. Eq. 1).